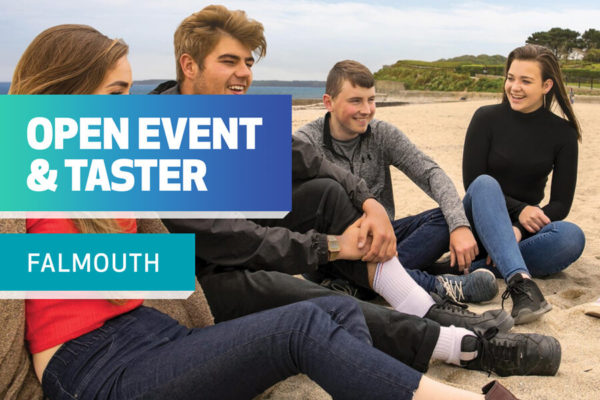 Open Event and Taster Session at Falmouth Marine School
Discover our courses, apprenticeships, tour our campuses, meet our amazing team and try a subject before you apply at one of our Open Days and Taster Sessions!
OPEN EVENTS
Our Open Events are the first step to finding the perfect apprenticeship or college course for you. You can hear from our tutors, view our incredible facilities and get your first taste of the career goals we can help you reach.
You'll be able to ask our expert teams any questions you may have to make sure you find out everything you need to know about #thecareercollege.
  Everything you need to know about Taster Days
At Falmouth Marine School you can study a range of courses in:
Boatbuilding
Marine Engineering
Marine Science
Watersports
TASTER SESSIONS
If you are a year 10 or 11 student, our taster days are your chance to get a taste of what college is really like.
You will meet our expert teaching staff, experience real course activities and try out the equipment, plus meet other potential students so there are familiar faces when you enrol.
You can book a Taster Session at Falmouth Marine School in the following subjects:
Boatbuilding
Marine Engineering
Marine Science
Watersports
We have an excellent international reputation for our marine courses with superb facilities including boatbuilding and engineering workshops as well as a dedicated marine science lab. Our tutors combine industry experience with academic expertise and are active in their field through research and personal interest in their subjects.
Everything you need to know about our taster day (FAQs)

What time do I need to arrive?
Please arrive at 10am and sign in at reception.
The rest of the day looks like this…
Information Morning 10am to 12 noon
An opportunity to meet our current students, explore the campus, meet the head of campus, talk to our teams and apply for your chosen course!
We encourage parents and guardians to come along so that you can ask questions about applying for courses, the support we offer, transport, accommodation, apprenticeships, future careers and anything else you would like to know.
Taster Session 11am -12 noon
A hands-on session in our specialist workshops and classrooms that will give you the opportunity to get to know our staff and find out what it's really like to be a student at Falmouth Marine School!
Boatbuilding
Try out riveting and corking at our Ponsharden workshop.
Marine Engineering
An Introduction to Engine Mechanics
Marine Science
Activities including fish dissection (alternative activities will be offered)
How do I get there?
Click here for directions of how to find us along with a campus map.
We have limited parking on site but there are several carparks in Falmouth, the nearest being Town Quarry, Quarry Hill, Falmouth, TR11 2BX – Cornwall Council
Do I need to bring food?
Complimentary tea and coffee will be available all morning and we also have vending machines on campus.
Can parents and guardians come along?
The Information Morning is for everyone to explore the college, talk to staff and gather information about studying at Falmouth Marine School but the Taster Session is for prospective students only. This is to make sure it is as close to a college experience as possible. However, if you would like to stay to support your child or discuss any additional support they might need, please discuss this with our team beforehand who will be more than happy to make any arrangements necessary.
What else do I need to bring?
In addition to normal clothes, you will need the following depending on which Taster Session you choose!
Boatbuilding
Steel toe cap boots if you have them plus overalls or clothes that you don't mind getting dirty
Marine Engineering
Steel toe cap boots if you have them plus overalls or clothes that you don't mind getting dirty
Marine Science
No special requirements
BOOK YOUR PLACE NOW
Please only book a ticket for the person looking to studying at Falmouth Marine School.
You can bring along as many guests as you would like, they don't require a ticket.